The grapevine first arrived in the area of Tuscany that would later be known as 'Chianti' thanks to the Etruscans, who inhabited Tuscany between the IX century BC and the I century BC. In later centuries, the Romans carried on the cultivation of grapevines. After the Barbarians invaded Italy, the Benedettini monks and the Vallombrosani monks (the same order responsible for creating Badia di Pomaio) took over, essentially saving hundreds of years' worth of farming culture and knowledge from destruction.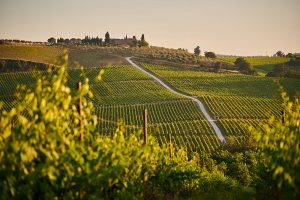 From the very first time it poured out of a barrel, the Chianti wine was appreciated by rich and poor alike. Many famous Italian personalities, such as Michelangelo and Galileo Galilei, even bought homes in the Chianti area just to oversee the production of wine personally.
Today, we have several varieties of Chianti, originating from different zones of production.
Chianti Classico, produced in the vast territory between Florence and Siena, is one of the noblest wines in the world. Its characteristic ruby red colour and velvety texture are acquired through ageing, which must last a minimum of eleven months. The undisputed queen of the production of Chianti Classico is the Sangiovese grape, the most widespread grape in Tuscany. Other varieties are allowed, but only in a lower percentage (no more than 20%).
Chianti Montalbano dates back to the end of the XIII century AD and is produced in the area between Florence and the city of Pistoia. Just as it did in the Chianti Classico, the Sangiovese grape makes up most of the body of the Chianti Montalbano (at least 75%). The other grapes used are Canaiolo, white Malvasia and Trebbiano. It's commonly paired with typical Tuscan cold cuts, red meat, game and wild boar.
The province of Arezzo has its own Chianti wine, as well. The Chianti Colli Aretini probably dates back to the XIV century (but it might be older) and it's produced from the Sangiovese grape. It's a fresh, dry and lively wine that goes well with almost everything. This area is also home to the Vin Santo del Chianti dei Colli Aretini, a dessert wine obtained exclusively from white grapes left to wither for a few months.
These are just a few examples of the many brands and varieties of Chianti produced in Tuscany.
Likewise, the producers are just as numerous and just as varied. From Antinori to Banfi and Frescobaldi, they all offer incredible tours and mouth-watering wine tastings.