Badia di Pomaio, 5-stars Hotel in Tuscany, was originally a monastery, founded in the 17th century. It underwent a comprehensive renovation process that lasted over two years and ended in 2019, when the hotel first opened its doors. The many artisans, artists and producers who collaborated on this project shared a common goal: to preserve as much as possible of the history and the essence of the monastery. The elegant balance between the sleek contemporary design and the carefully preserved monastic elements is the result of their hard work. Another crucial staple of this project was the use of natural, sustainable materials, such as wood, stone, linen and hemp.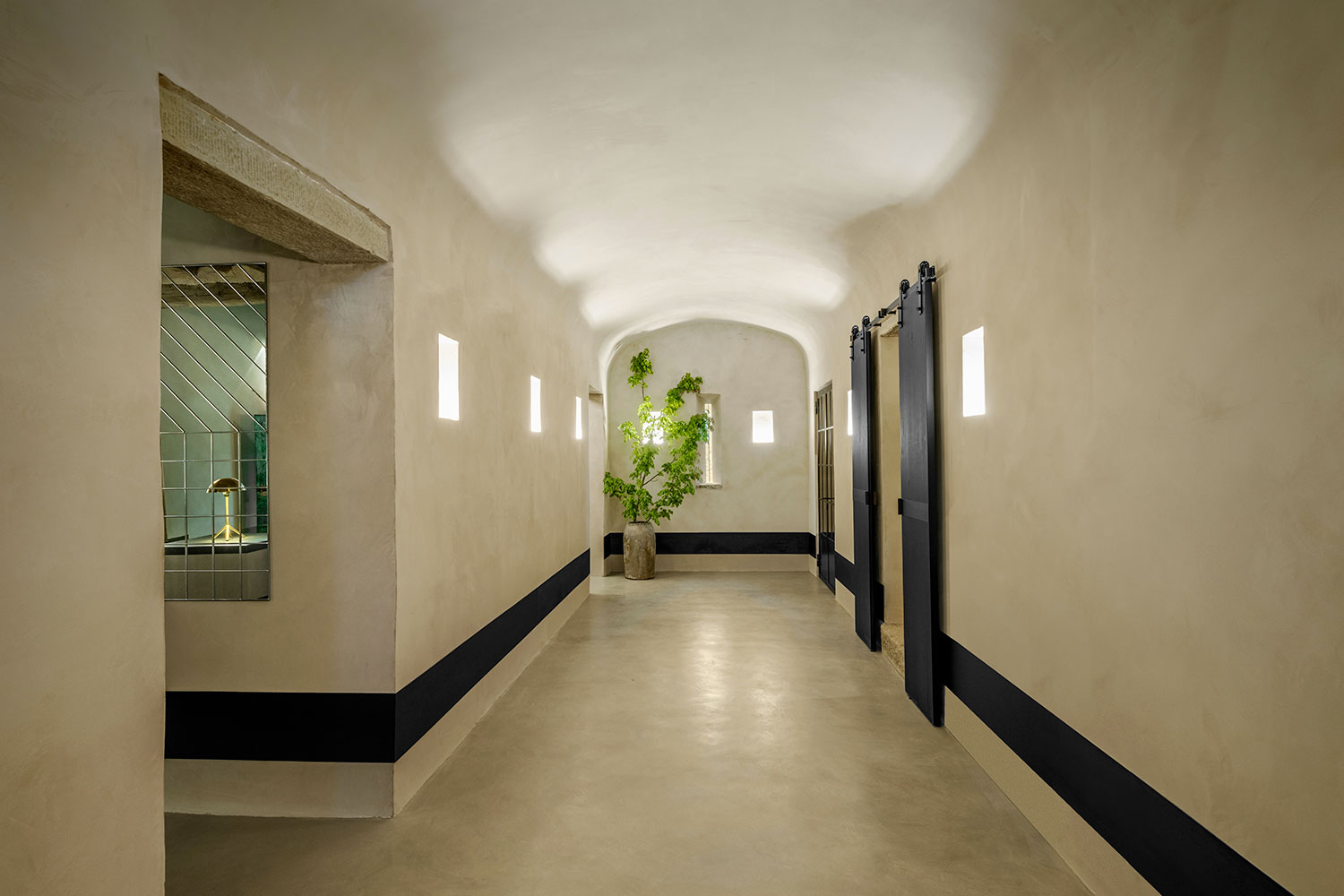 Today, the first thing guests will see upon stepping into the abbey is the embrasure on the wall opposite the doorway. When the sunlight hits it, it casts a cross over the floor. The choir, where the monks once gathered to sing and pray, and where the altar stood, is now the conference room. Its tables and armchairs are set in a circle to elicit that same atmosphere of solidarity and partnership that they shared. The arched ceilings, the old-style fountain and the ancient wooden statue of the Madonna, patron of the abbey, perfectly preserved within a niche along the stone stairways, bring back to life the aura of conviviality and fraternity that sets monasteries apart from the rest of the world.
An extremely instrumental figure for the birth of the new Badia di Pomaio was Piero della Francesca. Italian designer Ilaria Miani was deeply inspired by the work of the renaissance painter and mathematician. Piero della Francesca's influence is especially evident in the simple lines of the walls and of the furniture, in the natural colours and in the clever use of perspective, which guests can observe in every room and in all the common spaces. 
Badia di Pomaio's minimalist philosophy really comes to life within its rooms. The fourteen individually designed rooms and suites are a harmonious combination of simplicity, modernity and naturalness, each enriched by unique pieces of décor. The handmade furniture used is smooth and graceful and its clean lines follow the shape and the volume of the rooms.  Through the careful use of perspective, every room achieved an unobstructed view of the landscape around Badia di Pomaio, be it the woods, the Chianti hills or the olive groves.